Good Riddance's Practically Daughters™ program focuses on the specific needs of seniors who are often faced moving from a home in which they have resided for many years, at a time in their lives when they may be experiencing reduced physical performance. Many seniors may need support through this transition especially if family members are unable to, or have limited time to assist in the downsizing process. When a person needs to relocate to a retirement community, condo or care facility, our Practically Daughters™ senior move manager program provides the know-how and decision support to organize the home for sale and moving.  Playing traffic cop with what gets moved and what goes requires a high level of commitment and effort. Our staff is dedicated to helping families decide how to preserve memories, even when the items associated with these memories are no longer there. Through Good Riddance's Practically Daughters™ program and our partners, surplus and unwanted possessions find good homes through sale, donation and recycling. Our seniors' relocation specialists organize the entire move including floor plan, packing and unpacking, hiring and supervising movers and setting up the new residence. Here is what you can expect from Practically Daughters: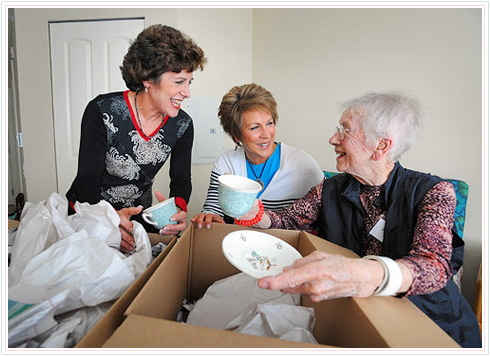 A comprehensive in-home consultation and needs evaluation
A customized supportive home relocation plan
Sorting and organizing all recycling, donations and items going for sale
Distribution of items to family members, consignment, auction and storage
Setting up accounts for consignment and auction
Packing, unpacking and set up new residence
Arrangement for charity pick-ups
Hiring and managing the movers
Coordination of junk removal and shredding services
Staging home with client's possessions (if required)
Arrangement for cleaning services
Contact us to find out more about how our Practically Daughters Senior Move Managers can help you stretch transition dollars.      
Practically Daughters™ Assistance for Aging in Place
Most seniors wish to stay in their homes for the rest of their lives. In fact an AARP survey found this number to be greater than 80% of seniors. This "stay at home" approach is also known as "Aging in Place".
However, quite often it is the home that creates the difficulties. Most residential housing is geared to young healthy adults and does not consider age-related conditions such as reduced mobility or limited range of reach. Consequently, homes do not support the physical and sensory changes that older adults encounter as they age. What seem like insignificant home features can have considerable effect for a person with even minor aging issues. Practically Daughters™' understand that successful "Aging in Place" requires planning. It is important to do a thorough assessment of the home to assure that it is properly organized for comfort, safety and accessibility. We remove clutter and other hazards and work with handymen and renovations experts to install necessary modifications in the home that allow seniors to remain in familiar surroundings and neighbourhoods where support systems are in place.
Practically Daughters™ Bereavement Solutions
For families experiencing grief over the loss of a relative after a prolonged illness, clearing and disseminating a loved one's possessions often adds to their distress. If these activities also include preparing the home for sale, the surviving family members may not feel up to the emotional demands that these complexities inflict. Sorting through a parent's or spouse's lifetime of possessions brings up lots of memories. There will be many experiences which are important to recall, even record, in order to say goodbye. Sometimes, conflict develops between children or siblings over who assumes responsibility for the disposition of material items. Having professional support during this difficult process can help to maintain harmony within the family at a difficult time.
Practically Daughters works with families who are faced with having to cope with the logistical problems of the distribution and disposition of their family's treasured belongings through sale, donation and re-directing to family members.  We are downsizing experts who understand how overwhelming this course of action can be and can make it easier.